My first 12 months in business
by
Jennifer Chamberlin
September 2017
Last April my morale was at an all-time low: after 2 and a half years of hard work and loyal service, I was told that the administrative team of the small industrial company where I worked was being re-organised and that they were letting me go. My mind was in turmoil: what was I going to do? Did I really have to start looking for a new job? Go back to the long commute into Paris once again? How would I provide for my family?
For months, I'd been increasingly active on social media. I was reading posts in PA groups on Facebook and kept seeing the words "virtual assistant". What was that, I asked myself? So my journey of discovery began. I started a new thread: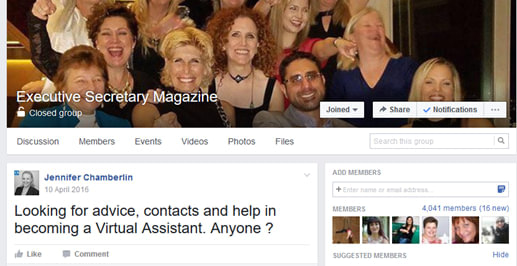 I couldn't believe it when less than an hour later (and on a Sunday morning) I was on the phone to one of the leading VA trainers in the UK, the awesome Amanda Johnson of VACT. She spent nearly an hour with me, explaining what a VA was, what they do and how I could do the same. Needless to say, she won me over and I decided to have a go.
First of all I looked at my skills: what I had learnt over 15 years as a PA? What did I enjoy doing? What services could I offer? What would be my niche? Who did I want to work with? I thought about all of these things and then honed my LinkedIn profile and created a professional business page on Facebook.
I then had to sort out the administrative side of being a freelancer (no mean feat in France, I can tell you). I decided to become a consultant with an umbrella company, a way of testing the waters without going through too much red tape. It was a bonus that they would provide me with contracts and take care of billing and credit control so that I really was in business within just a few days.
I'd always been the EA who got out there and went to meet others, notably in the IMA network (formerly EUMA), and I realised that networking as a VA was vitally important to my success. I had to become a 'super-connector' so I signed up for as many networking events as I could. I learnt very quickly that it's not about selling and that you never know who knows who or what doors may open. I was lucky enough to find my first client in my first month of business.
I always say that I knew how to be an Executive Assistant, but I had to start from scratch as a Virtual Assistant. That's where training has been so important. I've invested in Microsoft Office training with Vickie Sokol Evans in London, Kick Start training with the VACT and the Fully Booked Blueprint programme with Laura Phillips. Although these training courses take up a lot of time and in all honesty, they're not always easy to manage alongside my client work, they are teaching me more about myself and pushing me further than I would have ever thought possible. Writing this blog is a perfect example of me pushing myself out of my comfort zone! They've also enabled me to find my voice. It might be just a whisper for the moment, but it's definitely there.
I've also had to develop so many new skills, for example learning new software to track my time or design flyers, job adverts or CVs. I've had to write a business plan, a contract and my terms & conditions. I've had to learn about marketing and how to create my own brand. In other words, I – who was "just a PA" this time last year – have had to become a business owner!
Through the online VA groups I've also found the most amazing support network. It may be hard for an outsider to believe, but the VA industry is unique. Questions are asked, problems are solved, successes are celebrated and hugs are shared among VAs who have understood that it's not about competition, it's about collaboration and that when one of us wins, we all do. Sheryl Sandberg would, I believe, be proud of us.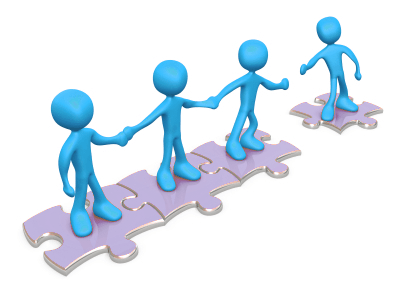 In particular, I wouldn't be where I am today without my success buddy. We first met online, then got to meet in person at the VA Day at Office* in London in May last year and we just clicked. Through our weekly chats we have found that we have more and more in common. She has helped me along my journey in so many ways and I know I've helped her too. I couldn't wish for a better business partner.
I've also found support among my friends and family, even if some were dubious at first. My Dad used his legal knowledge and experience to review my contract and terms & conditions, my Mum commented that I was "born to network" and my brother has talked about my services to his contacts. My husband may never say 'I believe in you' but he's built my website and he's given me a year to make my dream a reality. Some friends may have said 'you're brave…' but I've always replied '…or completely crazy' and I think they're now admiring. Others have provided me with a supportive shoulder when I've doubted myself.
So after a year it's time to reflect on the highs and lows. There have been hard times, particularly at the end of January when work was slow and I was really questioning whether I could continue. But today I'm so excited to work with each of my clients, and I'm grateful for their trust in me and my services. I've received my first 'cold' enquiries and earlier this year an article I co-wrote with the lovely Suzanne Ekpenyong was published by Executive Secretary Magazine (one of my dreams from last year and goals for this year). I'm now facing my future with a lot more confidence than I had this time last year.
I don't regret one minute of my journey so far. I'm continually driven by a desire to be an inspiration to my children, to go above and beyond for all my clients and to show other PAs that there is life outside the corporate 9-5 and it's pretty wonderful.